The Hamamatsu Project began at the Rochester After School Academy (RASA). More than 300 students from RASA will commemorate the sister-city relationship of Rochester to Hamamatsu in Japan. The
Wiki
has already been started, check it out.
Students will:
Research Japanese Culture online
Conference in real time with Japan using streaming video
Collaborate with RIT students to make 3D models of Rochester Schools
Perform and broadcast step routines to Japanese music
Create a Wiki and Book
Create paper cranes
Count in Japanese
Create Lanterns
Speak Japanese
And More
The Rochester Institute of Technology's Lab for Technological Literacy will provide support and technology to enable and inspire the RASA students. As more organizations join the project, the students' experiences will be exponentially enriched.

Art for Everyone
will work directly with students to build artistic video portals. The first portal is proposed at Edison Tech High school and will be coordinated by Robyn Neill, Bonnie Atkins, Principal of the
School of Imaging & Information Technology at Edison
, and facilitated by the RASA coordinator at Edison.
The portals will allow high school students to directly conference with professors, universities, and college students worldwide. This project will facilitate such conferences with universities in Japan and the
Rochester Institute of Technology
. Dr. Gurcharan S. Khanna, Ph.D., Director of Research Computing at RIT, will advise on the project and help to design the infrastructure that will allow video to stream internationally.
Vector Illustration Below: Proposed video portal design illustrated by Robyn Neill. The circular view of the video stream in the center will be roughly 6 feet tall.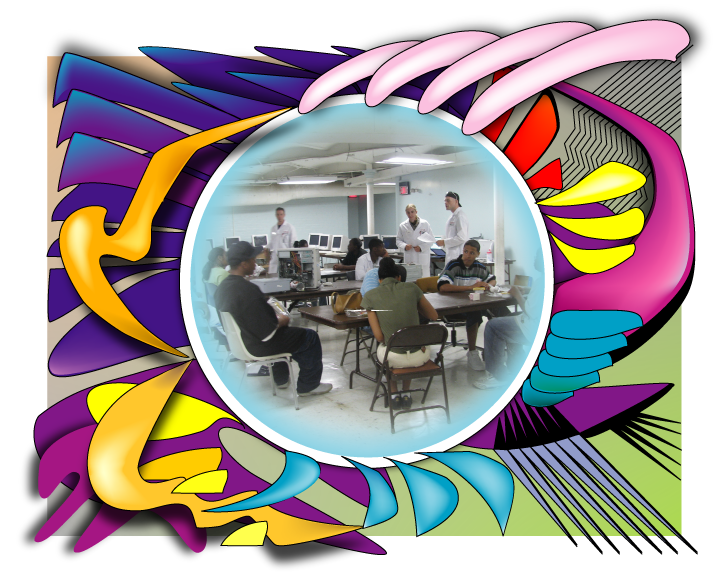 ---




Web Design and Code Copyright © 2007 Keith Simmons.
Viewed on Monday the 20th of March 2023 at 05:26:04 PM